PROMOTIONAL PRODUCTS
Promotional Products Rawk!
Introducing SWAGMAN!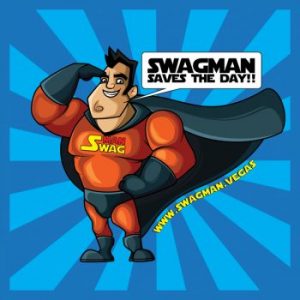 The Mission Statement for North Star Multimedia has always been to provide innovative multimedia marketing products to our customers.
Marketing has become an incredibly clever form of publicity – after all, it seems that no matter where we turn, there is advertising of some sort or another. Whether it be television adverts, bus ads, magazine adverts, online banners, social media and sponsored ad, it seems to be never ending.
We have been a long time fan of "promotional products" and in 2013 we became an independent distributor via PPAI membership.
Immediately, we were able to bring an unlimited vendor base and the backbone of resources to competitively bid on any promotional product opportunity.  The average customer might not recognize the value of dealing with a PPAI member, but the Association continues to grow and develop vendors that meet the high standards for quality, safety and value.
We have built a separate brand called "Swagman" as the portal to our promotional products offering.  BTW, have you considered using a "SuperHero" to promote your brand?  It works!
In today's internet, it is quite easy to just shop online but will your order arrive on time? What if your order is damaged or the artwork was rendered incorrectly?
Don't be "penny-wise and pound-foolish"! Call us today to learn more! (702) 359-5054